Envelopes With Logo and Address
Specialized Forms & Filing Systems is Your Most Reliable Source for Quality Business Envelopes That Meet Your Specific Requirements!
Every business needs envelopes. It's important for your business envelopes with logo and address clearly printed so that your customers and business affiliates know where that envelope is coming from.  A printed logo and and address gives your envelope credibility by clearly identifying who it is from, which greatly reduces the chance of it being tossed or buried amongst junk mail.
When a customer or patient is sifting through their mail and sees your business name and logo on the envelope, it serves as an instant reminder that they recently utilized your services and it's now time to pay their bill. This gives your invoice/statement a sense of priority and urgency, where a generic unmarked envelope is more likely to be cast aside and/or lost.
While stick-on return address labels are a time saver, they are best used for personal mail and bill paying, not on your business envelopes. You want your business to present itself as professional as possible which is why custom printed address envelopes are your best choice.
Envelopes that are printed with your logo and return address are quicker and more cost effective than hand labeling or hand writing your business name and address on each individual envelope that goes out. Think of it this way, if you choice not to have your own custom envelopes printed, you are going to have to purchase blank envelopes, purchase return address labels and pay to have them printed, plus pay an associate to waste time sticking the labels on, trying to get them to line up straight. It's a no-brainer to go with the custom printed envelopes!
Custom business envelopes not only add to your professionalism, but they also make great advertising pieces!
While the primary purpose of your printed envelopes is to provide the recipient with your return address, they also have the opportunity to make great advertising pieces! Printing a slogan, descriptive phrase or tagline can be effective towards reinforcing what it is that you do, as well as making a statement about what makes your business unique and separates you from your competitors. Not only will the end recipient see it, but so will everyone else who handles your envelope between your office and the final destination.
Specialized Forms and Filing Systems offers a variety of custom envelope sizes, windows and sealing options to meet your businesses specific requirements. We offer self-sealing or gummed, double or single window envelopes for checks or billing statements as well as envelopes for various other purposes. We also offer coin envelopes such as tithe/offering envelopes for churches. Our envelopes are made out of quality paper stocks and the imprint is sharp and crisp in your choice of ink color(s). Call us today to get a custom quote for your business envelopes.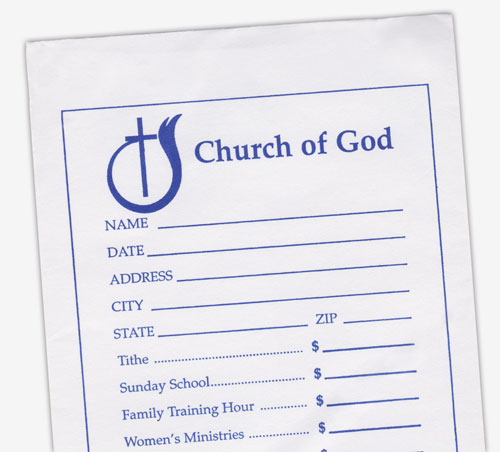 We Offer:
#9 & #10 Self-Sealing, Regular & Window Envelopes
Window Envelopes for Checks
Window Billing Envelopes with Pre-Inserted Return Envelopes (Designed to help you get paid faster!)
HCFA & ADA Insurance Form Envelopes
Panoramic X-Ray Envelopes
Tithe & Coin Envelopes
Order Now
Call us direct at:
(716) 694-6957
Our Pledge and Goal:
Your business is very important to us. We want you to be 100% happy with your order. We pledge to try our very best to accommodate you with any reasonable request or suggestion that you may have.