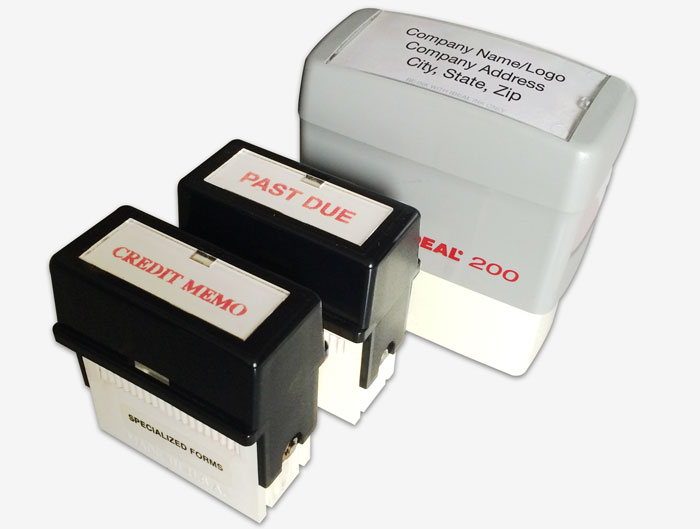 Self-Inking Stamps Such as Custom Signature Stamps, Address Stamps and Date Stampers Are a Cost Effective Time-Saver
Self-inking stampers contain a polymer stamp plate and an internal ink pad which eliminates the need for a separate external ink pad. Why buy the rubber stamp and ink pad separately when you can have a compact, one-piece unit with each component built into one product?
Our custom stampers provide an easy way to leave your mark on a form, document, or product quickly and cleanly. Self-inking stamps eliminate the tedious task of manually marking or writing on each item which is proven to be particularly handy when you have a large stack to be marked or signed. The additional advantage to a stamp is the fact that they are consistent so that all of your markings will always look the same.
Self-inking stamps are great for orders, statements or invoices as "received" or "complete," flagging an item for follow up action, or highlighting a notice or warning message on a customer's bill or statement.
Other useful stamps you may want to consider are address stamps and custom signature stamps. Address stamps are great for adding essential contact information to your documents or adding your company seal/insignia as a symbol of authentication. The signature stamp is very popular for authorized personnel to sign documents on behalf of an authority within the company. All you need to do is provide us with a clean signature, written in ink, from the person you would like to replicate and we can create a custom self-inking stamp. Signature stampers are a huge time saver, as they enable you to quickly authorize/authenticate a document without having to put your task on hold while waiting to interrupt the busy schedule of the person you need a signature from.
Self-inking stamps from Specialized Forms & Filing Systems are available in a variety of sizes including small (9/16″ x 1-1/2″), medium (7/8″ x 2-3/8″), large (1″ x 2-1/2″), and jumbo (3″ x 1-1/2"). They are available in a variety of ink colors. Our custom stampers are built with the highest quality standards and are proven to be speedy, efficient, and long-lasting.
 We Offer:
Self-Inking Stampers
Signature Stampers
Dater Stampers
Past Due Message Stampers
Notary Stampers
Confidential Stampers
Order Now
Call us direct at:
(716) 694-6957
Our Pledge and Goal:
Your business is very important to us. We want you to be 100% happy with your order. We pledge to try our very best to accommodate you with any reasonable request or suggestion that you may have.