Business Office Printing • Multi-Part Business Forms
All Types of Checks • Envelopes • and More…
WE DESIGN
We don't believe in one-size-fits-all. Our products are customized to your business. We even have a graphic designer available to help you with your custom layout needs.
WE PRINT
In addition to custom design, we produce high quality, cost effective offset and digital print products for all of your office printing needs, making it a convenient one-stop-shop for you.
WE SERVICE
We take pride in building business relationships with our exceptional customer service. We focus on addressing your individual needs as well as finding ways to help you save money!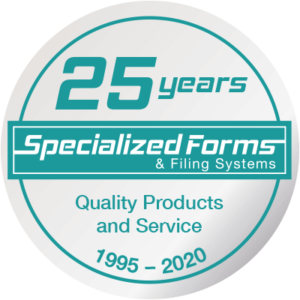 Specialized Forms and Filing Systems Offers High Quality Printing and Outstanding Customer Service for Small Businesses
We have been servicing all of Western New York, including the Finger Lakes region, since October of 1995. We're doing our part to help the local economy – Our products are made here in the USA by American workers.
Specialized Forms & Filing Systems offers all types of general and custom office printing. Our products are made to order and customized specifically for you. Our top specialties are multi-part carbonless forms, envelopes, letterhead, business cards, and checks. We also offer products such as brochures and flyers, custom stampers, signs and name tags.
Looking for new ways to market and promote your business? We can design and print materials such as brochures, postcards and flyers. We also offer a line of promotional products such as custom  t-shirts, hats, pens, memo pads and more — printed or embroidered with your company name and information.
We also specialize in complete file system solutions. We are your best source for color-coded filing systems including shelving and cabinets, color coding labels, chart dividers, and filing supplies.
Let us help you increase your office efficiency with our wide variety of products and personalized service to cater to your individual needs!
We Build Business Relationships — Most of Our Customers are Customers for Life
We are dedicated to providing the excellent customer service that you deserve. That means no automated ordering, no filling out dozens of fields on an online order form just to place a simple order, and no waiting on hold for support, only to be greeted by a call center located in another country. Excellent customer service means placing a simple phone call and talking to the owner direct for speedy ordering and guided ordering decisions based only on what you NEED. We believe in building business relationships with our customers and getting to know them on a personal level. That is what makes Specialized Forms & Filing Systems unique and keeps our customers coming back.
Our Pledge and Goal
Your business is very important to us. We want you to be 100% happy with your order. We pledge to try our very best to accommodate you with any reasonable request or suggestion that you may have.
Tim Tiebor, Owner
"Over 25 years of service in Buffalo and Western New York – and now serving nationwide."
Why Choose Us?
★ ★ ★ ★ ★
✓Friendly, helpful, customer service — direct from the owner.
✓We build ongoing business relationships with our customers and we never try to sell you more than what you need.
✓Our products are quality-based, not volume-based. We stand behind our products 100% and take great care to ensure that we get your order right.
✓We will never price gouge — Our rates are fair and reasonable.
✓Direct, one-on-one customer support is a simple phone call away.
Order Now