Sign & Name Tag Engraving and Printing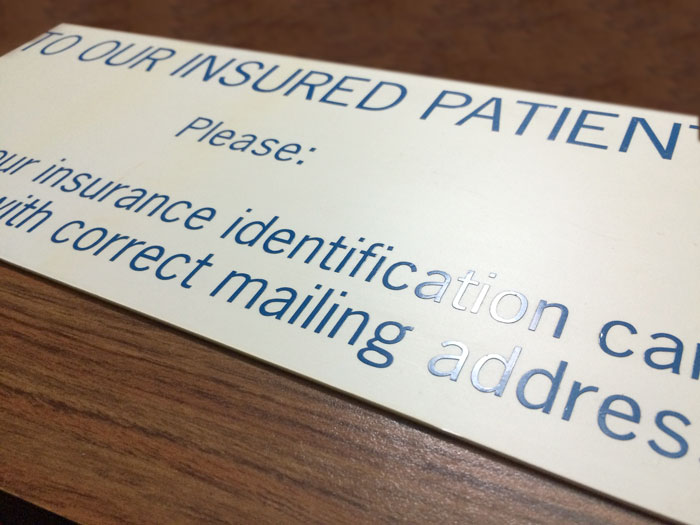 We Offer Custom Engraving — Including Signs and Name Tags, As Well As Flat-Printed Vinyl Signs
Homemade signs on the computer are tacky and unprofessional. They fade, yellow, curl and wrinkle in a short period of time; not to mention the fact that they are ruined after contact with the slightest splash of water. Our custom engraved/printed signs are constructed of durable, waterproof vinyl that will last for many years. We have many styles and colors to choose from with various standard or custom messages available. We also offer custom name tags/name badges for your associates. All of our signs and name tags are made to order and produced specifically for you.
All of Our Engraving and Sign Printing is Done Here, Locally in Buffalo, NY
All of our sign engraving and printing is produced locally; here in the Buffalo, NY area, and carefully crafted with the highest standards. Purchasing your engraved/printed signs locally not only benefits the local economy, but also reduces costs and allows for a quicker turnaround time to get your signs faster.
Essentially Every Office or Workplace Can Benefit from Vinyl Signs
Whether you need a sign to indicate restricted access, a sign to welcome customers/patients/visitors, or simply need a no smoking, exit, or restroom sign, Specialized Forms & Filing Systems can create a custom solution to fit your specific needs. Our most popular requested messages are listed below for your reference.
Popular Messages
"Due to the sensitivity of our equipment, the use of cell phones or other electronic devices is prohibited. Thank you for your cooperation."
 "Your co-payment is due at the time of your visit. Thank you."
"Payment is expected as services are rendered unless prior financial arrangements have been made."
"Please do not eat or drink in this room. Thank you."
"A fee will be charged for appointments cancelled with less than 24 hours notice."
"Welcome, please register with receptionist."
"No Smoking"
"Authorized Personnel Only"
"Laboratory"
"Private"
"X-Ray"
"Restroom"
"Exit"
We Offer:
Printed Vinyl Signs
Engraved Signs
Engraved Name Tags
Order Now
Call us direct at:
(716) 694-6957
Our Pledge and Goal:
Your business is very important to us. We want you to be 100% happy with your order. We pledge to try our very best to accommodate you with any reasonable request or suggestion that you may have.