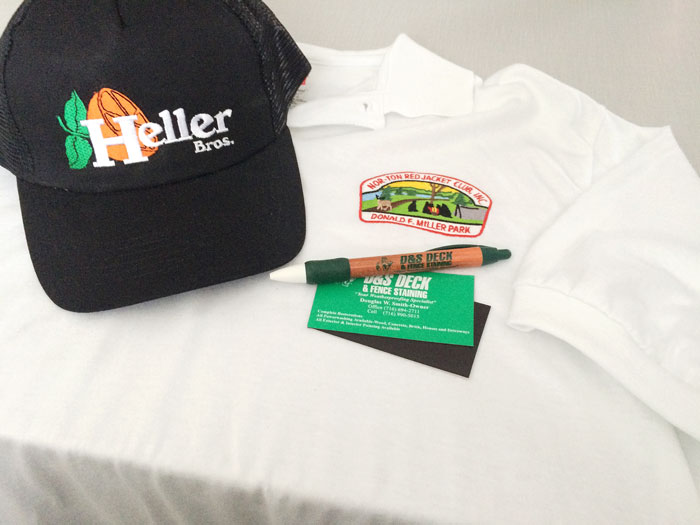 Promote Your Brand With Custom Shirts, Hats, Pens and More from Specialized Forms & Filing Systems
Looking for ways to keep your company name on the minds of your customers? Have you thought about a small, inexpensive giveaway such as pens, hats or t-shirts? Promote your brand with promotional products from Specialized Forms & Filing Systems. Everyone loves to receive a gift. When you offer a giveaway item, it's a great way to give thanks to your customer/client/patient by showing them that you appreciate their support and loyalty. The added bonus: each time the person uses your item, your name will be fresh in their minds and may even serve as a reminder to make their next appointment or solicit your business for additional products or services they may need. Another great benefit to a promotional product is low-cost advertising! Your only expense is the original ordering of your custom shirts, hats, pens, etc. Every time a person wears your shirt or hat or uses your pen or other giveaway, you make an impression with other surrounding people who are potential customers or patients. Your promotional item can make a great talking point for someone who is looking for a new doctor or a new auto mechanic or looking for some other service that your business specializes in. The absolute best way to drive new business is through referrals! The best way to bring up that talking point and earn that referral is through the use of promotional items with your logo and company name. Whether you are in need of promotional products for marketing purposes or simply looking for custom shirts, polos, or hats with your logo on them for your employees, Specialized Forms has you covered. Before you order elsewhere, call us and see how we can offer you the best service with great pricing!
We Offer:
Custom Shirts with Logo Screen Printed or Embroidered
Custom Hats with Logo Screen Printed or Embroidered
Magnets for Business Cards, Many Different Shapes & Sizes
Custom Pens
Memo Pads
Die-Cut Labels and more…
Order Now
Call us direct at:
(716) 694-6957
Our Pledge and Goal:
Your business is very important to us. We want you to be 100% happy with your order. We pledge to try our very best to accommodate you with any reasonable request or suggestion that you may have.