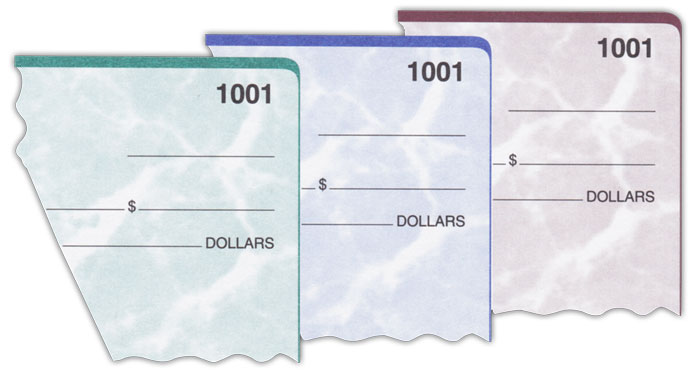 We Offer Low-Cost, Custom Business Checks Including Laser Printer Checks, Inkjet Printer Checks and Pegboard Checks
Our low-cost custom business checks meet and exceed banking requirements. With over eleven security features, our checks will help prevent fraud and keep your accounts secure. We offer many compatible checks that will match your accounting software (such as QuickBooks™, Quicken®, or Peachtree®) and work with your laser printer or inkjet printer. For businesses who still utilized continuous printers, we also have continuous printer checks available. We have many check styles, colors and formats to choose from. Why pay top dollar at the bank for your printer checks when you can get them from Specialized Forms and Filing Systems for less?
For businesses that do not have a computer check printing system, we also offer one-write pegboard checks for pegboard systems. While one-write checks may be considered "old school" by today's computer generation, pegboard checks are a simple solution for a small business that doesn't want to spend a fortune on expensive computer check software.
Whatever type of business checks you are looking for Specialized Forms offers affordable, low-cost alternatives to buying checks from the bank. Call us today and see how much you can save on personalized, custom business checks!
We Offer:
Low Cost Laser & Ink Jet Checks
QuickBooks™ & Quicken® Check Compatibles
Peachtree® Compatible Checks
Ring Book Binder Checks
Pegboard Checks
Order Now
Call us direct at:
(716) 694-6957
Our Pledge and Goal:
Your business is very important to us. We want you to be 100% happy with your order. We pledge to try our very best to accommodate you with any reasonable request or suggestion that you may have.